Netravali Hike
The Nature Club of the College organized one day hike to Savari Waterfall, Netravali, Sanguem Goa on 28th July 2018. Students of various programmes  B.Com , BCA , BBA  and M.Com  totaling  222  and  24 staff  members joined the monsoon hike .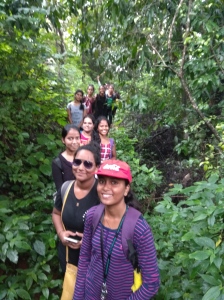 The students along with staff members left the college at 8:00 a.m. and reached Netravali at around 10:30 a.m.
Mr. Raju Naik was our local guide.  After walking through lush green forests and enjoying the scenic beauty, the students and staff reached the final spot, the beautiful water stream at around 1:00 p.m. Students along with the staff members enjoyed the Stream to the fullest. After having lunch the students started descending back to the buses. The buses left around 5:00 p.m. from Netravali and reached the college at 6:30 p.m.
Following instructions received from the Forest Department, the students and staff ensured that they did not leave behind any litter/garbage.