Guest Lecture on Financial Reporting and Analysis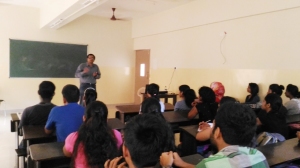 The BBA(FS) Department organized a session on Financial Reporting & Analysis for TY BBA(FS) students on 13th September 2017. The resource person for the session was CA Shravan Swarup, Partner at Marathe Rao & Swarup, Margao Goa.
The students were provided with concise knowledge about the fundamentals of analyzing financial statements, analyzing each item of a financial statement and interpretation using different tools of analysis. The resource person also highlighted the importance and limitation of each tool of analysis.
The expert's up-to-date knowledge, practical examples, practical tips, reference to recent developments and linking of theoretical knowledge with real practical examples kept the students engrossed throughout the session.